Brief Update 21 August, 2011 – Camp IV

Gerlinde, Maxut, Vassiliy and Darek reached Camp IV (about 8,000m) at 4.30pm this afternoon. The weather was perfect the whole day, however, they had to break trail in deep snow. Their equipment is dry and the weather forecast is looking good for tomorrow. They are all in good spirits and are feeling pretty confident about their summit attempt.

Please, continue to keep your fingers crossed!

Warm Regards
Gerlinde Kaltenbrunner's and Ralf Dujmovits' home team

Update 7:30 pm local time

The team has decided not to go for the summit tomorrow but to fix the traverse from the camp to the Japanese couloirs. They also want to check out the snow conditions in the couloirs due to expected snowdrifts.

They are planning on having a "rest day" tomorrow and try for the summit on Tuesday. The weather forecast remains good, also for Tuesday.



Brief Update 22 August, 2011

Yesterday evening, our four friends took the difficult decision to use today as a rest and fixing day. They spent a very cold night at 8000 m and this morning at 6:30 a.m. they started to fix some rope along the traverse into the Japanese Couloirs and further up this couloirs.

According to Gerlinde, they found lots of powder snow, which was covered by a crust and waist-deep in some places. Their progress was very slow and now – as I write these lines at 01:00p.m. – they have only covered about 150 – 180 vertical meters.

The weather is perfect – not one single cloud in the sky – and there is just a light breeze.

In the attached pictures you see Maxut, Vassiliy and Gerlinde climbing between the seracs on the right side of the couloirs. Darek cannot be seen in the photograph – he is about 50 m behind.

In case they start tomorrow morning, the trail will be broken, the rope will be fixed and the progress to their highpoint will be much quicker. They are hoping to find less snowdrifts and better conditions on the left side of the couloirs, which is much longer in the shade.

Let's keep our fingers crossed – we all so wish that they can make it safely.
Ralf Dujmovits


Update 22.08.2011 – 20:30 local time

After a long and exhausting ascent which was difficult due to deep snow Gerlinde, Maxut, Vassiliy and Darek decided to spend the night at their highest point at about 8,300m in a bivouac. They found a perfect bivouac place at the last serac in the Japanese Couloirs. They dug a platform for their tiny tent and are enjoying the last sunbeams inside, eating tomato soup. They are planning to leave at midnight tonight local time and are hoping that they will successfully climb the last 300m despite the difficult snow conditions.

Kind Regards
The team at base camp as well as Gerlinde´s and Ralf's home team



Brief Update 23 August, 2011

Start towards the Summit

After Gerlinde, Vassiliy, Maxut and Darek had spent an icy and bittercold night at 8,300m, they were getting ready for a 1am start in their cramped bivouac. Shortly after their departure at about 1.30am, they started having problems with their hands due to the intense cold. Even though the gradient above the bivouac is 'only' 45° – the climbers still have to stand on their forefeet most of the time. This reduces the blood circulation and with temperatures of -25°C leads to very cold feet. On the 8th day of continuous climbing, it is very difficult to dry the innerboots – no matter how good the boots are. Furthermore, after 2 1/2 months of intense and exhausting climbing the body fat has been reduced to a minimum, which means it is more susceptible to the extreme cold.

The four climbers decided to return to their bivouc-tent to warm up, which was definitely the right decision. At 7.30am they left again for the summit and have made pretty good progress since then.

Once again, the day started cloudless and according to Charly Gabl, our friend and meteorologist in Innsbruck, this should continue all day long. The wind also seems to have died down completely. Last night, when they were melting snow to brew tea, it was completely still. Wednesday is supposed to be another beautiful day, which means it is also looking good for the descent.

As soon as we have news I'll get back to you,
Ralf Dujmovits from K2-basecamp


++ 1st  Update  – 11:15am local time

I have just spoken to Gerlinde by radio – she was at an altitude of about 8,400m. All four climbers are severely suffering from the cold, however, they are expecting to be climbing in the sun in about three quarters of an hour.

Then they will also reach the angular couloirs, which leads to the summit ridge and they are expecting better snow conditions there. Bearing all that in mind, the four are pretty confident. Gerlinde said that she was feeling good, given the circumstances.

We are keeping our fingers crossed!
Ralf Dujmovits as well as the home team


++ 2nd Update  – 4:15pm local time

I was able to speak to Gerlinde over the radio at 3pm. They had just arrived at the ramp, which leads from the Japanese Couloirs to the summit ridge and progress was very slow due to the deep snow. At one point we could see from base camp how the four climbers were going in three different directions to break trail, however, all of them had to start from scratch as the snow was just too deep.

It is now 4pm and the two climbers who are breaking trail (I cannot tell who) are making much better progress and have almost reached the top of the ramp, which means they are almost at the summit ridge. The summit ridge is a rather wide slope that, according to the German Aerospace Centre, ends up in a basin which leads to the final slope.

Quite a lot of time has past but there is still not a cloud in the sky and as far as I can see from down here, the weather is still relatively calm.

Lets keep our fingers crossed! On behalf of Gerlinde, I would like to thank everyone, who is with the team in thoughts and has sent their best wishes – it gives a lot of strength and support, which is still necessary.

Many thanks and warm regards from base camp
Ralf Dujmovits

Radio call local time 4:35pm – Local time
Gerlinde and Vassily have arrived at the end of the Japanese Couloirs at the start of the summit ridge. Maxut and Darek are close behind.



++  3rd Update  SUMMIT!!!

At 6:18pm local time, Gerlinde reached the summit of K2. Maxut and Vassiliy are also nearly there and Darek is close behind.



++ 4th Update – The whole team reaches the summit!

Maxut, Vassiliy and Darek have also reached the top of K2 and were able to share the summit success with Gerlinde. The four of them are now on their way down.

Gerlinde is over the moon and can't believe how lucky they were to reach the summit TOGETHER in this fantastic weather, despite the difficult conditions during the ascent.

Gerlinde told Ralf on the radio that she would like to thank everyone, who was with her in their thoughts and kept their fingers crossed for her climb. She would also like to thank everyone for their mental support, which she could clearly feel and literally carried her to the summit.

However, despite this amazing achievement, we all know that the team still has to reach their camp safely and we wish them all the best for their descent.

Warm Regards
Gerlinde's and Ralf's Home Team


++ 5th Update 8:30pm local time – Team on Descent!

Ralf has just reported from base camp that he could see the four lights of the climbers at the end of the ramp, just above the Japanese Couloirs.



++  6th and last Update for today, 10.30pm local time  – Team at Bivouac

Gerlinde has just contacted Ralf by radio and told him that all four climbers had reached last night's bivouac. While Maxut, Vassiliy and Darek are still deciding whether to stay there or go down to Camp IV, Gerlinde has already started her descent to Camp IV.

We are still keeping our fingers crossed and wish them a safe descent.
Gerlinde's and Ralf's home team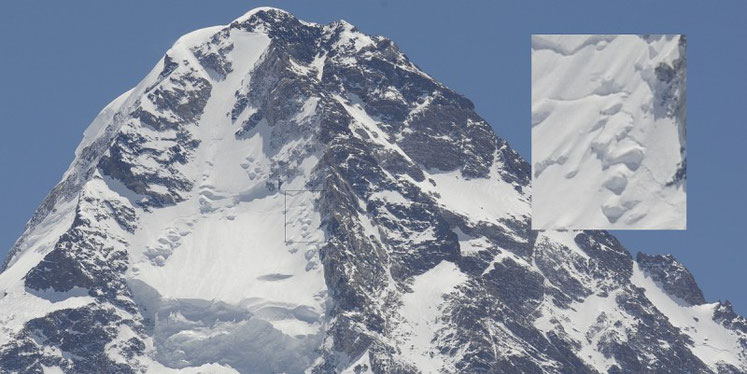 Brief Update, 24 August 2011 – Team still descending

At midnight last night, Gerlinde, and a little later also Darek, reached Camp IV at 8,000m. Vassily and Maxut stayed the night at their bivouac at 8,300m, from where they left at 7am. They have now almost reached Camp IV.

Today, they are planning to descend to Camp I at 5,300m, where they will spend one last night at the foot of the North Pillar before they will go down to our deposit camp tomorrow. I am planning to go up and meet them there.

From there, it will probably take another three hours to carry our heavy gear across the dry K2 glacier to our base camp, which Tommy and I have almost completely dismantled.

Once at base camp, we will pack up our last belongings and go down to the Chinese base camp (about 3 ½ hours), where our camel herders are already waiting for us.

These are our preliminary plans, however, the four of them have to get down safely first. We wish them all the necessary strength and concentration, which they certainly need to manage the last 2,500m of their descent.

I will be in touch again as soon as Gerlinde, Maxut, Vassiliy and Darek have arrived at Camp I.
Ralf Dujmovits from K2 base camp

© TEXT R.Dujmovits | TRANSLATION: Billi Bierling
++  Update 10pm local time – Between Camp II and Camp I

Ralf has just spoken to Gerlinde. The four climbers are still on the descent between Camp II and Camp I and had already reached the rock shoulder, which means they have passed the most difficult sections.

We hope the rest of the descent will go well and they will be able to spend a good night at Camp I.
Ralf Dujmovits and the Home Team


Brief Update, 25 August 2011 – Local time in the morning


A big hello at deposit camp

We are very relieved to report that Tommy and Ralf were able to meet Gerlinde, Maxut, Vassiliy und Darek at the deposit camp, which is at the end of the heavily crevassed glacier.
They are on their way down to the base camp and after a short rest will continue to the Chinese base camp.
The camels are already waiting there and the team will start their way back into civilisation tomorrow.

We are sending our heartfelt congratulations to the whole team, especially gerlinde for their amazing success.

Warm Regards
Gerlinde's and Ralf's Home Team
 

 
Brief Update – 26 August 2011

Summit Photos

Gerlinde and Ralf, Maxut, Vassiliy, Darek and Tommy had a very long day yesterday as they went all the way down to Chinese Base Camp, where they arrived late and exhausted.

But before they switched off the base camp lights, they were able to send as the summit photos we have so eagerly been waiting for!

Warm regards and have a great weekend!
The home team of Gerlinde Kaltenbrunner and Ralf Dujmovits


Gerlinde and Ralf on their way home!

Dear Friends,

We have good news for you – Gerlinde and Ralf have arrived in Kashgar in China, from where they will be travelling home via several stops.

If you are interested in hearing more about their expedition, keep Saturday evening free and switch on your television:

Gerlinde and Ralf will be the special guests in "das aktuelle sportstudio" on ZDF on Saturday, 03.09.2011 at 11pm

This will be the first time the couple will talk about their K2 expedition on television since their return.

Warm Regards from the Home Team!